Rune Factory (NDS)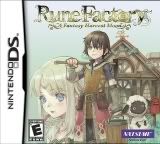 Though the name is different this is a Harvest Moon title, yay Harvest Moon! Only this has swords and monster and hacking and slashing and magic with farming and marriage yay!
Gameplay:
The game play similar to most other Harvest Moons. In that you select your tool and use it, you run, and you talk to people and give them things. Except now you also have weapons and magic in your selections. All in all the additions were nice making a good blend of action and fun.
5/5

Story:
The premise is that you are a guy who has no memories and this girl cons you into working on her farm. Later you get access to some caves where you can fight or befriend monster which become your allies in combat or livestock. The story is thin at best but more then most Harvest Moons
3/5

Graphics:
Being a DS game the best hand held ever I feel I don't think the graphics measured up to what they should. There is though a cool full length video for the opening that despite being corny is nice.
3/5

Audio:
The people have voices and not just single word voices. Most events and important information from the locals is voice acted. Other than that though the music is nothing special and all else seems just up to standard.
3/5



Replay:
I'd say its worth playing through at least 1 extra time but not beyond that. Nothing is too challenging and most people will probably get there fill the first time through and only replay to make different choices.
3/5

Overall:
The game puts a fun new spin on Harvest Moon as a series and I'd like to see more game like this. The main problem being that the game seemed to not incorporate enough of the typical Harvest Moon things, like marital rivals more challenging management of your farm and relationships. I say pick it up and have some fun and here's hoping for an improved sequel.
3/5