Final Fantasy Tactics A2: Grimoire of the Rift (DS)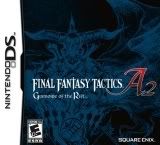 So Yuuki was supposed to review this awhile ago, but I'm guessing his comp troubles prevented him from doing so. Either that or I'm gonna have to hunt him down. Let's get down to it.
Story:
You're a young boy in the real world. You get sent to the library as punishment, and apparently you think it's perfectly reasonable to start writing in a book because it was there. This done, you are sent into another realm with moogle and baanga and viera, oh my! Various adventures ensue as you join a clan and provide services to the people of Ivalice. Not bad, but certainly not the deepest plot ever.
3/5


Graphics:
The graphics are ok. Not terribly impressive but not bad. The dual screen is utilized, but i don't think to the best potential. Overall, average on the visuals.
3/5


Audio:
The sound isn't bad. Music and sound effects match the mood, but battle tracks are only so long, so it's a lot of the same.
3/5


Gameplay:
As the name suggests, this is a tactical game. There are a number of different races, each have different jobs that are available. Certain jobs are unlocked by leveling other jobs. Other jobs are learned by getting skills in them, which you learn through equipment. Besides the storyline, you can take missions to earn items, AP, and maybe exp. These missions can be battle or dispatch missions. You can also do clan trials which earn you more clan rewards. Clan rewards are bonuses you get during battle as long as you follow the laws set by your clan judge. If you break the law you lose the clan priviledge and character who die in battle cannot be raised until after the battle is over. Another area of importance is the bazaar. You take items earned in battle to a shop. If you have all of the items needed, you can make new weapons or armor. Once you have made this new gear, you can then buy it from the shop. The gameplay is fun and easy to understand. my only problem is that opponents do not have to follow the laws like you should, so if you're law is to not target allies, then you can't do anything for your friends, but they enemy white mage is most likely curing up a storm for them.
4/5


Replay:
There's no real point to replay. It's all a matter of how much you want to play with the story again.
2/5


Overall:
It's a good tactical RPG worth picking up. The story isnt going to move you, but that's not why you pick up the game. You pick it up for some fun strategy.
4/5
It was a debate between 3/5 and 4/5, but I decided to round up.