Samurai Warriors: Katana (wii)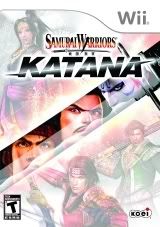 Alrighty so let's see first apologies for the late review been real busy with easter weekend and the what not. So today we have Samurai Warriors: Katana for the Wii as typical to most wii games nowadays its wii-mote based, so...
Gameplay:
So you'll take the role of one of your mii's never mind the fact they don't seem like feudal Japanese warriors because you'll never actually see them. The basics are you're put on a track like an arcade shooter and you go along killing enemies at regular stops...this works for arcade shooters because it simply requires spamming a button. It fails for this game because it requires overly precise aiming and well timed button mashing and arm flailing and after all is said and done it lacks any feeling of accomplishment.
1/5

Story:
There really isn't one the battle are just misc. historical skirmishes and lack any sense of epicness. These games profit from the free roaming and the optional missions and what not. So being on a track where your choices (if any) are go here and swing until x number of people are dead or go here and sing till x number of people are dead, kinda drags things down.
1/5

Audio:
Well its all the same music and voices from SW2 which is nice that had good music. but its nothing special or new or even remotely engaging do to the fact you are busy bandaging your wrists.
3/5

Graphics:
Graphically the games good areas look just like the SW2 as do characters and that's cool cause you get to see them from a first person view. But the aren't spectacular or anything really special. The game also has a general lack of cinema.
3/5

Replay:
if you can physically replay the short game you are in far better shape than me. If you can bear to play through the game you are in far worse mental shape than me.
1/5

Overall:
Motion sensor controls is a dangerous edge to skirt and seems to be hit or miss. Some games profit well from it and it makes them all the more fun other games fail miserably and make you want to harm the people who came up with the idea. All in all this was a failed attempt in all forms there's little that could make this game better and even still it be a bad game.
1/5